KENNETH ALLEN, DIRECTOR

Kenneth Allen was selected as the first dedicated emergency management position for the University of Florida in 2005. Since that time, the program has grown to become the Department of Emergency Management within the Division of Public Safety. The Department is charged with leading and maintaining a comprehensive, all-hazards program active in all five mission areas of the National Preparedness Goal.
Kenneth has over twenty years of experience as an emergency management professional and holds the designation of Florida Professional Emergency Manager (FPEM). Prior to joining the University, he worked as an Emergency Management Coordinator with Alachua County (Florida) Emergency Management. The opportunity to serve at both the local and higher-education level has allowed exposure to nearly all areas of emergency management, including responses to state and federally declared disasters, planning, mitigation grants, public education, program development, recovery efforts, training, exercises, and more.
Kenneth is active in professional associations including Florida's Domestic Security Coordination Group, Florida Emergency Preparedness Association and the Southeastern Conference Police Chief and Emergency Managers meetings. He is a 2014 graduate of FEMA's National Emergency Management Executive Academy. Additionally, he holds a Bachelor in Political Science and a Master of Public Administration (MPA) from the University of Alabama.
FRANCINE VINCENT, ASSISTANT DIRECTOR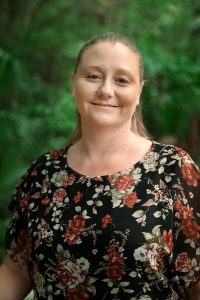 Francine Vincent was selected as the Assistant Director of Emergency Management for the University of Florida in March 2020. She started the position during the historic COVID-19 Pandemic and has made significant contributions to the University's emergency management program.
Francine has over nine years of experience as an emergency management professional. Before joining the University, she spent twenty years in the U.S. Air Force, the first twelve years as an F-15 Avionics Technician, and the last eight years as an emergency manager. She served as the Emergency Management Superintendent at four different locations, Tyndall AFB, FL, Saudi Arabia, Seymour Jonson AFB, NC, and Jordan, where she managed the installation's emergency management programs. Francine served as the EOC Manager for four aircraft incidents, two hurricanes Matthew and Florence, Air Shows, and numerous exercises.
Francine earned two Associates Degrees, one in Emergency Management and one in Avionics Systems Technology.  She received her Bachelor of Arts Degree in Sociology from American Military University in 2009 and her Master of Arts Degree in Emergency Management Leadership from Adler University, IL in 2018. She will be attending FEMA's National Emergency Advanced Academy in February 2021 and is working towards her Florida Professional Emergency Manager (FPEM) certification and Advanced Professional Series certification from the Florida Emergency Preparedness Association.
VACANT, ADMINISTRATIVE SUPPORT
ASSISTANT