KENNETH ALLEN, DIRECTOR

Kenneth Allen became the first dedicated emergency management position for the University of Florida in 2005. Since that time, the program has grown to become the Department of Emergency Management within the Division of Public Safety. The Department is charged with leading and maintaining a comprehensive, all-hazards approach to preparedness through prevention, protection, mitigation, response and recovery.
Kenneth has over twenty years of experience as an emergency management professional and holds the designation of Florida Professional Emergency Manager (FPEM). Prior to joining the University, he worked as an Emergency Management Coordinator with Alachua County (Florida) Emergency Management. The opportunity to serve at both the local and higher-education level has allowed exposure to nearly all areas of emergency management, including responses to state and federally declared disasters, planning, mitigation grants, public education, program development, recovery efforts, training, exercises, and more.
Kenneth is active in professional associations including Florida's Domestic Security Coordinating Group, Florida Emergency Preparedness Association and the Southeastern Conference Police Chief and Emergency Managers meetings. He is a 2014 graduate of FEMA's National Emergency Management Executive Academy. Additionally, he holds a Bachelor in Political Science and a Master of Public Administration (MPA) from the University of Alabama.
BRADY NETTINA, ASSISTANT DIRECTOR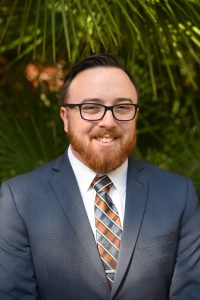 Brady Nettina is the Assistant Director of Emergency Management. Brady is a UF alumnus, receiving a bachelor's degree in Fire and Emergency Services in 2018. He initially began his career in emergency management as student intern for UFDEM, gaining experience early through activations for Hurricane Irma and other incidents on campus. Since graduation, Brady has served as a Program Coordinator for Alachua County Emergency Management and, most recently, as the Emergency Management Coordinator for Marion County Public Schools. He holds the designation of Florida Professional Emergency Manager (FPEM) and brings signification knowledge and experience to his new role and is excited to be back at UF.
MELINE SIMEON, ADMINISTRATIVE SUPPORT
ASSISTANT