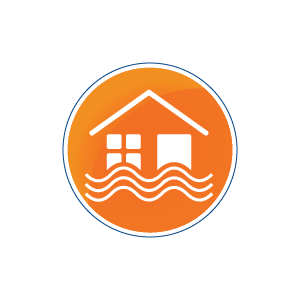 Florida experiences a variety of flooding risks throughout the year. Flooding can result from heavy rains associated with slow-moving or stationary frontal systems, tropical weather, or thunderstorms. Portions of the UF campus and surrounding areas can be impacted by both "urban and small stream" and "areal" flooding.
What to Know
Urban & small stream flooding refers to the ponding of water on streets, underpasses, low-lying areas, storm drains as well as small creeks and streams.
Areal flooding normally refers to more widespread areas and results from a gradual ponding or buildup of water in low-lying areas usually caused by prolonged and persistent moderate to heavy rainfall.
Flood WATCH – Issued when the potential for flooding exists
Flood WARNING (Areal or Urban & Small Stream Warning) – Issued when flooding is imminent or in progress
Flood Advisory (Areal or Urban & Small Stream Advisory) – Issued when flooding is expected to be of inconvenience, but not necessarily life-threatening
What to Do
Follow Take Action Guidance when appropriate.
Avoid already flooded areas. Do not attempt to cross flowing streams.
If driving, be aware that the road bed may not be intact under flood waters. Turn around and go another way. Do not drive through flooded roadways.
Be especially cautious at night when it's harder to recognize flooding dangers.

It takes just 12 inches of rushing water to carry away most cars and just 2 feet of rushing water can carry away SUVs and trucks Turn Around, Don't Drown.
Get More Info:
NWS – Flood Safety Tips and Resources