Thunderstorms area frequent occurrence in Florida. In fact Florida leads the nation in number of thunderstorms, averaging over 70 thunderstorm days per year. Hazards within thunderstorms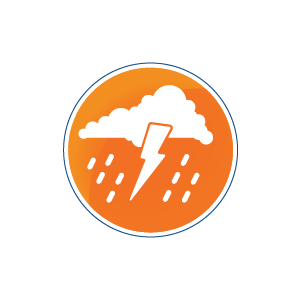 include lightning, hail, gusty winds, heavy rain that may cause flooding, and tornadoes.
The Storm Prediction Center issues Convective Outlooks depicting the severe thunderstorm/tornado risk for each day and issues Severe Thunderstorm or Tornado Watches if conditions are favorable for severe weather. The National Weather Service issues a Severe Thunderstorm Warning when a thunderstorm produces hail the size of a U.S. quarter (1") or larger or winds of 58 mph or stronger.
What to Know
Severe Thunderstorm Watch – Conditions are favorable for severe thunderstorm development. Be aware and monitor weather information.
Severe Thunderstorm Warning – A severe thunderstorm has been sighted or indicated by radar. Take protective actions.
What to Do
Follow Take Action Guidance when appropriate.
The record low temperature for Gainesville is 6° F, set on February 13, 1899. The coldest temperature recorded in Florida was -2° F in Tallahassee, also on February 13, 1899.
Get More Info
NWS – Severe Thunderstorm Safety