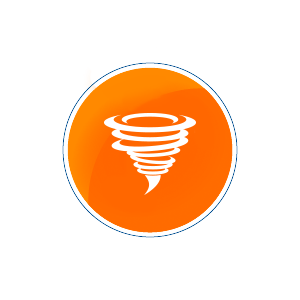 Florida tornadoes can form in a variety of ways and in all seasons, but are often in association with severe thunderstorms. The greatest number of Florida tornadoes occur in June, July and August. These are typically short-lived events that can produce damage but seldom take lives. Florida's most deadly tornado outbreaks have historically occurred in the spring during February, March, and April. In the state, winter and spring tornadoes are often more powerful because of the presence of the jet stream's high level winds. During the late summer and fall, landfalling tropical storms and hurricanes, especially in the Gulf of Mexico, can spawn tornadoes. Nationally, large tornadoes tend to occur in the late afternoon and early evening hours following buildup of heat in the lower atmosphere. However, in Florida, strong to violent tornadoes are just as likely to occur after midnight as they are in the afternoon.
What to Know
Tornado WATCH – Conditions are favorable for tornado development. Be aware and monitor weather information.
Tornado WARNING – A tornado has been sighted or indicated by radar. Take protective actions.
What to Do
Follow Take Action Guidance when appropriate.

The National Weather Service uses the Enhanced Fuijita Scale, or EF Scale, to rate the strength of tornadoes based upon wind estimates from the damage produced. The scale ranges from EF0 (65-85pmh) to EF5 (over 200mph).
Get More Info